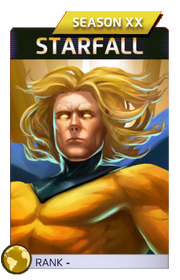 Main article: Starfall
Joins forces with a Powered-Up Sentry and release his limitless powers against your foes!
Blast your way up the leaderboards with his untrammeled might! Protect yourself by raising SHIELDS and then fight back later!
Check out the Starfall cover packs to have Sentry' join your ranks permanently!
Power-Up Characters
Edit
New Characters
Edit
X-23 (All-New Wolverine)
Red Hulk (Thunderbolt Ross)

This Week
Edit





Deadpool (Uncanny X-Force)
Carnage (Cletus Kasady)





Doctor Doom (Classic)
The Hulk (Indestructible)
Luke Cage (Hero for Hire)
She-Hulk (Modern)
Colossus (Classic)




Steve Rogers (Captain America)
Black Widow (Original)



Storm (Modern)
Venom (Dark Avengers)
}}
Event Rewards
Edit
Leaderboard Awards
Edit
| Rank | Rewards |
| --- | --- |
| 1 | Star-Lord (Legendary Outlaw) ( Power) Plus all rewards from previous rank. |
| 2-5 | Wolverine (Patch) (, and Powers), 5000 , 100 , 2 . |
| 6-10 | Wolverine (Patch) ( and Powers), 2000 , 100 , 2 . |
| 11-25 | Wolverine (Patch) ( and Powers), 1000 , 50 , 1 . |
| 26-50 | Wolverine (Patch) ( Power), 1000 , 50 , 1 . |
| 51-100 | Wolverine (Patch) ( Power), 500 , 25 . |
| 101-200 | Steve Rogers (Captain America) ( Power), 500 . |
| 201-300 | Steve Rogers (Captain America) ( Power), 250 . |
| 301-400 | Recruit Token (Standard) x2, 140 . |
| 401-500 | Recruit Token (Standard), 70 . |
Alliance Awards
Edit
| Rank | Rewards |
| --- | --- |
| 1-2 | Wolverine (Patch) ( Power), 5000 , 250 . |
| 3-10 | Wolverine (Patch) ( Power), 5000 , 100 . |
| 11-25 | Wolverine (Patch) ( Power), 3000 , 100 . |
| 26-50 | Wolverine (Patch) ( Power), 2000 , 100 . |
| 51-100 | Wolverine (Patch) ( Power), 1000 , 50 . |
| 101-250 | 1000 , 50 . |
| 251-500 | 500 , 25 . |
| 501-1000 | 500 . |
| 1001-10000 | 250 . |
Progression Rewards
Edit
Starfall Comic Sale
Edit
Starfall Comic
Edit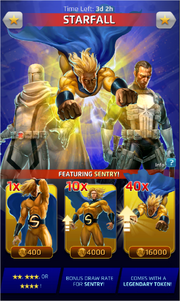 During the Starfall Event you can buy comics from these special packs:

Drop RatesEdit
| | 40 Pack | 10 Pack | 1 Pack |
| --- | --- | --- | --- |
| Sentry (Dark Avengers) | 6.0% | 6.0% | 2.3% |
| Uncommon | 5.1% | 5.1% | 5.4% |
| Rare | 0.6% | 0.6% | 0.6% |
| Legendary | 0.2% | 0.2% | 0.2% |