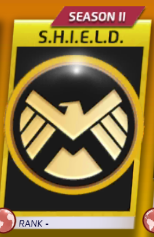 Part of Season II Versus Event
Sent to the sidelines with the rise of Norman Osborn's H.A.M.M.E.R., S.H.I.E.L.D. needs to step up its game. Time to hit the futuristic gym, Nick Fury, Director of S.H.I.E.L.D., has the folks in lab coats developing a superior alternative to Professor Xavier's Danger Room technology. Quantum memory foam lets trainees spar with simulacra of the peers
Battle against your peers to rise through the ranks over the course of each Season.
Event Rewards
Edit
Progression Rewards
Edit
Ad blocker interference detected!
Wikia is a free-to-use site that makes money from advertising. We have a modified experience for viewers using ad blockers

Wikia is not accessible if you've made further modifications. Remove the custom ad blocker rule(s) and the page will load as expected.