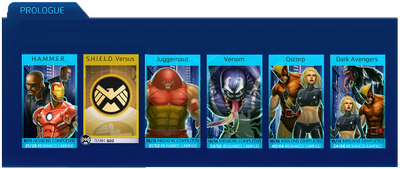 Currently Marvel Puzzle Quest has five permanent chapters. These chapters are currently listed under the prologue tab.
In each chapter there are several playable episodes that continue the game's story using a comic book style narrative at the beginning and end of each episode. Upon beating an episode, players are awarded in-game items called "drops". Excluding certain episodes in the H.A.M.M.E.R. introductory chapter, each episode a 4 winnable drops.
Players will receive 1 of the 4 potential drops on the first successful completion of the episode, but subsequent wins will not guarantee receipt of remaining drops. Upon completing an episode, players may receive a "consolation drop" of 20 pieces of Iso-8. The odds of obtaining episode drops over 20 Iso-8 was increased in the R40 Patch on October 23, 2013.
Chapter 1 - H.A.M.M.E.R.
Chapter 1 - H.A.M.M.E.R. Dialogues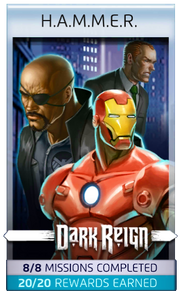 Chapter 2 - Juggernaut
Chapter 2 - Juggernaut Dialogues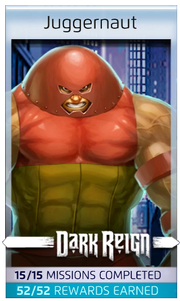 Chapter 3 - Venom
Chapter 3 - Venom Dialogues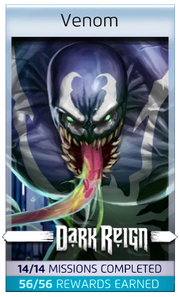 Chapter 4 - Oscorp
Chapter 4 - Oscorp Dialogues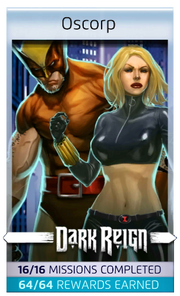 Chapter 5 - Dark Avengers Missions
Chapter 5 - Dark Avengers Dialogues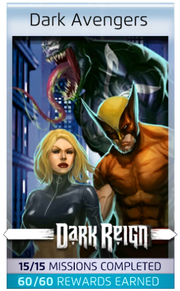 Ad blocker interference detected!
Wikia is a free-to-use site that makes money from advertising. We have a modified experience for viewers using ad blockers

Wikia is not accessible if you've made further modifications. Remove the custom ad blocker rule(s) and the page will load as expected.