Join forces with Mystique (Raven Darkholme), in this exciting Lightning Round tournament!

Lightning Rounds are breakneck speed events with the chance to win incredible prizes.

Top players win Lightning Round Cover Packs, with a bonus drew rate for the featured three-star Villains!

Power-Up Characters
Edit
Mystique (Raven Darkholme) - 150% (Mandatory Team-Up)
Doctor Doom (Classic) - 150%
Loki (Dark Reign) - 150%
Magneto (Classic) - 150%
Ragnarok (Dark Avengers) - 150%

Event Rewards
Edit
Leaderboard Awards
Edit
Progression Rewards
Edit
Lightning Round Comic Sale
Edit
Lightning Offer
Edit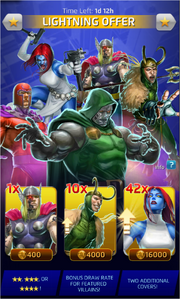 During the Lightning Round Event you can buy comics from this special packs:

Ad blocker interference detected!
Wikia is a free-to-use site that makes money from advertising. We have a modified experience for viewers using ad blockers

Wikia is not accessible if you've made further modifications. Remove the custom ad blocker rule(s) and the page will load as expected.