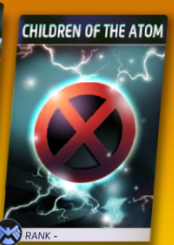 The Uncanny X-Men train to protect a world that fears and hates them!

Defeat opponents to earn points and climb the leaderboards.

Looking for more X-Men? Pick up a Children of the Atom pack.

Power-Up Characters
Edit
Beast (Classic)
Colossus (Classic)
Deadpool (It's Me, Deadpool!)
Magneto (Marvel NOW!)
Psylocke (Classic)
Storm (Classic)
Storm (Modern)
Storm (Mohawk)
Wolverine (Astonishing X-Men)
Wolverine (Patch)
Wolverine (X-Force)
All of the above get 150% boost to their stats.

Event Rewards
Edit
Leaderboard Awards
Edit
| Rank | Rewards |
| --- | --- |
| 1 | Wolverine (X-Force) ( Power) Plus all rewards from previous rank. |
| 2-5 | The Hood (Classic) (, and Powers), 5000 Iso-8, 100 Hero Points. |
| 6-10 | The Hood (Classic) ( and Powers), 2000 Iso-8, 100 Hero Points. |
| 11-25 | The Hood (Classic) ( and Powers), 1000 Iso-8, 50 Hero Points. |
| 26-50 | The Hood (Classic) ( Power), 1000 Iso-8, 50 Hero Points. |
| 51-100 | The Hood (Classic) ( Power), 500 Iso-8, 25 Hero Points. |
| 101-200 | Thor (Marvel NOW!) ( Power), 500 Iso-8. |
| 201-300 | Thor (Marvel NOW!) ( Power), 250 Iso-8. |
| 301-400 | Recruit Token (Standard) x2 ,140 Iso-8. |
| 401-500 | Recruit Token (Standard) ,70 Iso-8. |
Alliance Awards
Edit
| Rank | Rewards |
| --- | --- |
| 1-2 | The Hood (Classic) ( Power), 5000 Iso-8, 250 Hero Points. |
| 3-10 | The Hood (Classic) ( Power), 5000 Iso-8, 100 Hero Points. |
| 11-25 | The Hood (Classic) ( Power), 3000 Iso-8, 100 Hero Points. |
| 26-50 | The Hood (Classic) ( Power), 2000 Iso-8, 100 Hero Points. |
| 51-100 | The Hood (Classic) ( Power), 1000 Iso-8, 50 Hero Points. |
| 101-250 | 1000 Iso-8, 50 Hero Points. |
| 251-500 | 500 Iso-8, 25 Hero Points. |
| 501-1000 | 500 Iso-8. |
| 1001-10000 | 250 Iso-8. |
Progression Rewards
Edit
Children of the Atom Comic Sale
Edit
Children of the Atom Comic
Edit
During the Children of the Atom Comic Event you can buy comics from this special packs:

Percantage for Children of the Atom Comic Sale
Edit