Go to Chapter 5 - Dark Avengers Dialogues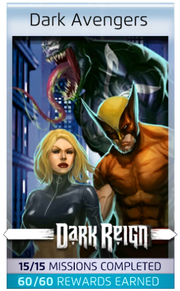 Current Missions
Edit
Left Side Missions
Edit
The Big Guns

Edit
Osborn is rolling out the big guns. He must be expecting us!
Enemies

Grenadier
Level 35

Lieutenant
Level 35

Pyro
Level 35
Rewards
Venom (Dark Avengers) ( Power)
Venom (Dark Avengers) ( Power)
Venom (Dark Avengers) ( Power)
Stockpile (Blue/Purple)
Grand Scheme

Edit
Osborn has some grand scheme in motion and he's about to announce it to the public. Go to Avengers Tower and confront him before he unleashes his madness on the world.
Enemies

Commander
Level 35

Spy
Level 35

Soldier
Level 30
Rewards
Stockpile (Red/Yellow)
Recruit Token (Standard)
Recruit Token (Standard)
Recruit Token (Standard)
Iso-8 Delivery

Edit
Those H.A.M.M.E.R. troops are carrying what looks like a cache of Iso-8. Stop them before they get into the tower.
Enemies

Soldier
Level 38

Grenadier
Level 39

Soldier
Level 38
Rewards
Yelena Belova (Dark Avengers) ( Power)
Yelena Belova (Dark Avengers) ( Power)
Yelena Belova (Dark Avengers) ( Power)
Power Boost (Black/Green)
Security Forces

Edit
Osborn has deployed H.A.M.M.E.R. security forces all around Avengers Tower. Let's put them to the test
Enemies

Soldier
Level 35

Commander
Level 40

Soldier
Level 35
Rewards
500
250
100
Stockpile (Black/Green)
Right Side Missions
Edit
Personal Security

Edit
Osborn's personal security detail is covering the rear entrance of the building. They must be expecting someone important.
Enemies

Assassin
Level 40

Commander
Level 40

Assassin
Level 40
Rewards
Recruit Token (Standard)
Recruit Token (Standard)
Recruit Token (Standard)
Power Boost (+10% Match Damage)
Incoming V.I.P.

Edit
a convoy of H.A.M.M.E.R. vehicles just arrived They're providing security for a group of V.I.P.s. find out who it is.
Enemies

Lieutenant
Level 42

Spy
Level 41

Grenadier
Level 42
Rewards
500
250
100
Critical Boost (+25% Damage)
The Family

Edit
The V.I.P.s are members of a Maggia crime family. They appear to be transporting heavy machinery. Is Osborn working with the Maggia? What are they bringing to Avengers Tower?
Enemies

Thug
Level 53

Muscle
Level 54

Thug
Level 53
Rewards
Recruit Token (Standard)
Recruit Token (Standard)
Recruit Token (Standard)
Stockpile (Red/Yellow)
The Maggia

Edit
Stop the Maggia Don and the cargo he's carrying before his convoy reaches Avengers Tower.
Enemies

Thug
Level 55

Don
Level 55

Thug
Level 55
Rewards
Stockpile (Black/Green)
500
250
100
Avengers Tower Missions
Edit
Daken and Venom

Edit
Daken is clearly impersonating Wolverine, but what does Venom have to do with Osborn's scheme?
Required Tasks
Defeat 3 Grenadiers
Defeat 2 Commanders
Enemies

Daken
Level 50

Venom
Level 50
Rewards
500
250
100
50
Yelena and Venom

Edit
Yelena Belova and Venom working together? Osborn may think he's helping the world, but he's most definitely gone mad.
Enemies

Yelena
Level 54

Venom
Level 54
Rewards
Recruit Token (Standard)
Recruit Token (Standard)
Recruit Token (Standard)
50
Dark Avengers

Edit
H.A.M.M.E.R. has a vial of Thor's blood and a handful of super villains in their employ. It all leads to the makings of the Dark Avengers. Time for a showdown!
Enemies

Venom
Level 45

Daken
Level 50

Yelena
Level 45
Rewards
Wolverine (Astonishing X-Men) ( Power)
Wolverine (Astonishing X-Men) ( Power)
Wolverine (Astonishing X-Men) ( Power)
50
Special Equipment

Edit
H.A.M.M.E.R. managed to get the equipment the Maggia delivered into the building. They're headed to the roof. Stop them before they get there!
Required Tasks
Defeat 3 Thugs
Defeat 1 Don
Enemies

Grenadier
Level 40

Commander
Level 35

Grenadier
Level 40
Rewards
Recruit Token (Standard)
Recruit Token (Standard)
Recruit Token (Standard)
Power Boost (Blue/Purple)
Thor's Hammer

Edit
The mysterious equipment appears to be a replica of Thor's hammer built by none other than Tony Stark. What does Osborn want with it?
Enemies

Pyro
Level 50

Commander
Level 45

Pyro
Level 50
Rewards
500
500
Juggernaut (Classic) ( Power)
Black Widow (Modern) ( Power)
Call Him Ragnarok
Edit
Osborn has somehow managed to clone Thor as part of his scheme to replace the Avengers.
Enemies
Ragnarok
Level 140
Rewards
Recruit Token (Standard)
Recruit Token (Standard)
50


50

Ad blocker interference detected!
Wikia is a free-to-use site that makes money from advertising. We have a modified experience for viewers using ad blockers

Wikia is not accessible if you've made further modifications. Remove the custom ad blocker rule(s) and the page will load as expected.